METROFLEX NO-FRAME EDGE COATING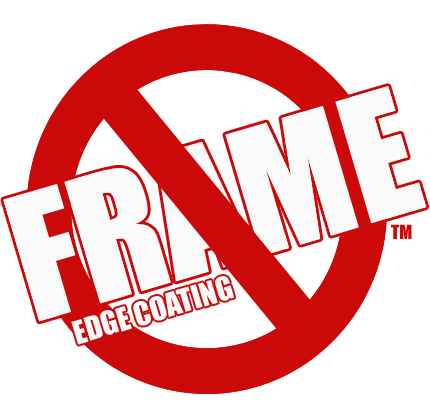 MetroFlex NO-FRAME Edge Coating is a water based penetrating coating which is applied to the perimeter edges of fiberglass acoustic panels to allow a "frameless" or "NO-FRAME" installation. NO-FRAME Edge Coating can be brushed, rolled, or sprayed onto fiberglass panels to create a stiffened edge which allows fabric to be wrapped directly around the panel without a frame.
BENEFITS OF NO-FRAME:

Saves labor and material costs wasted on building wooden frames
Lightweight finished product
No Sloppy / Squished corners
Easy Install with MetroFlex Impaling Clips
No VOCs
Maintains 25/50 Flame Smoke Rating of Fiberglass Board.
No noxious resin odors.
Easy Cleanup. (warm water & soap)

APPLICATION DIRECTIONS:

Shake Can
Stack acoustic panels on covered table (paper/plastic). A spacer can be used to separate panels.
Brush/roll Edge Coating on all edges of panels. Double coat all four corners.
Separate panels to prevent sticking during the drying process.
Allow 48 hours to completely dry and harden (coating will turn clear once fully dried).
Wash tools with soap and warm water. Avoid prolonged contact with skin.
COVERAGE:
Each quart will cover approx 8 fiberglass panels (2ft x 4ft) at a 2" thickness*
*Coverage may vary depending on the number of coats and how heavy the coats were applied.
CONTAINERS:
Comes in quarts, one gallons, or five gallon pails.