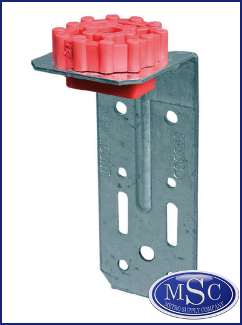 RESILMOUNT A48R MOUNTING BRACKET
Resilmount A48R clips are engineered, acoustic resilient mounting brackets for reducing airborne vibration and structure-borne vibration in internal wall and ceiling applications.
FEATURES
Unique, patented sound cell design to break up and absorb airborne sound.
Engineered thermoplastic rubber outperforms standard rubber because of its sound absorbing characteristics.
A48R is perfect for decoupling wall systems.
A48R can be used to decouple almost anything from garage door motors to lockers.
Resilmount is the most cost effective way to isolate airborne noise.
Strong 'column' design provides minimal contact area with substrate whilst maintaining maximum structural integrity.
Provided with several 3/16" slotted holes in bracket surface, suitable for direct fastening applications.
1/4" hole for most common fittings like 3/16" suspension rod.
The Resilmount A48R right angle bracket can be mounted in several different orientations for a variety of acoustic-sensitive installations. All Resilmount products are precision manufactured for complete control over the quality of each individual mount, in order to meet or exceed the architectural specifications required of each resilient mount. The patented Resilmount rubber insert has been independently tested and approved for use in the USA.