WHAT ARE PUTTY PADS?
Putty Pads are made from intumescent putty which is primarily used a firestopping product. Putty Pads are available as a 7" x 7" poly release faced pad for protection of recessed electrical boxes and as a through-penetration sealant. The pad is sized to fit a common 1-1/2" deep 4S electrical box.
HOW DO I INSTALL PUTTY PADS ON AN ELECTRICAL BOX?
STEP 1: Remove poly liner from one side of the putty pad


STEP 2: Align putty pad to the side of box partially overlapping the stud and adhere. Working to the opposite side of the box to the edges


STEP 3: If wall membrane is in place, pack putty into gaps between box and gypsum board slightly overlapping inner wallboard surface. If membrane is to be installed after pad installation, overlap front edge of box so that putty will be compressed around edges of box as wallboard is installed. Cut slits in pad to fit around conduits or cable.


STEP 4: Press pad to surface of top, bottom, and sides of box


STEP 5: Trim excess at corners and apply to conduit fittings connected to the box


OPTIONAL STEP: Pack putty into the inside of conduit fittings to prevent the passage of smoke or sound.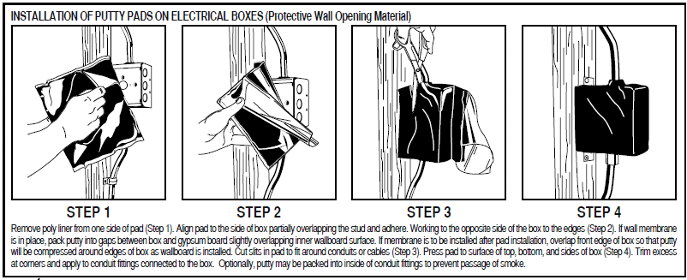 WHAT IF I HAVE A MULTIPLE SWITCH / RECEPTACLE?
In these situations, it is recommended that two to three putty pads be installed to ensure that the entire box is covered by putty. Overlapping between pads is also recommended to ensure 100% coverage.
HOW DOES INSTALLING A PUTTY PAD ON AN ELECTRICAL BOX BLOCK SOUND TRANSMISSION?
No matter what type of insulation or soundproofing you install or installed on your walls, electrical outlets and switches are left exposed. Sound waves that are entering the wall easily find their way through the metal/plastic boxes creating a sound channel. By installing a putty pad on the box, these channels are cut off which prevents the sounds from entering the room. An added benefit to installing a putty pad is the firestop properties. In case of fire, the putty pad will prevent the passage of smoke into the room through the electrical outlet.