UPDATE: INDUSTRY BREAKING NEWS! UNIFRAX FYREWRAP ELITE 1.5 NO LONGER REQUIRES OVERLAPPING ON THE TOP LAYER. SIMPLY USE BUTT JOINTS FOR BOTH LAYERS. SAVES $$$ BY USING LESS MATERIAL - SIMPLER INSTALL.


Unifrax's FyreWrap Elite 1.5 Duct Insulation is a two-layer flexible enclosure for one- and two-hour rated commercial kitchen grease ducts and hazardous exhaust ducts including chemical fume ducts. FyreWrap Elite 1.5 Duct Insulation is tested per ASTM E-2336 and is acceptable as an alternate to
a traditional fire-rated shaft. Installed as a two-layer system, FyreWrap Elite 1.5 complies with AC101 and the 2006 Edition of the International Mechanical Code (IMC). FyreWrap Elite 1.5 Duct Insulation offers the following product features:
Complies with 2006 IMC and UMC
Tested per ASTM E-2336
Two-layer system; inner layer utilizes butt joint
High-temperature, biosoluble insulation
Zero clearance to combustibles, at any location
2-hour fire endurance rating
Alternate to shaft enclosure
GREENGUARD listed for Microbial Resistance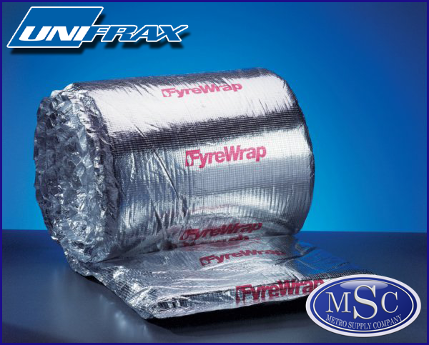 Installation
The FyreWrap Elite 1.5 Duct Insulation ASTM E-2336 System consists of a two-layer system applied directly to the duct surface. The FyreWrap Elite 1.5 insulation system may be installed at zero clearance to combustibles at any point. Install both layers of wrap with transverse (perimeter) and longitudinal butted joints. Between the first and second layers of wrap stagger transverse joints and offset longitudinal joints to different corners. All visually exposed blanket edges are to be sealed with minimum 3" wide aluminum foil tape and the use of filament tape is not required but is permitted to ease installation. See figure 1 below: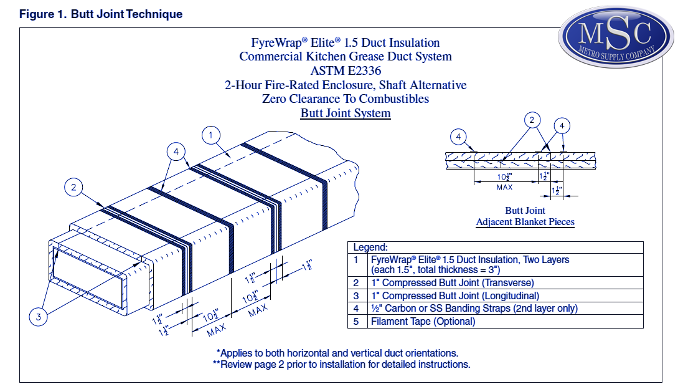 Attachment Options
Three attachment options are available for installers. Choices are limited by the duct width dimension. Details on each option are provided below.

Banding Only: For Duct Widths 24" or Less|
Place bands at 1½" on both sides of all second layer transverse butt joints and add additional bands as needed to ensure spacing is max. 10½" on center. Tighten banding to firmly hold the wrap system in place but not so tight as to cut or damage the blanket. Secure bands with crimp clips.
Note: No bands are required on the first layer.

Banding and Pins: For Duct Widths Up To 48"
For ducts greater than 24", in addition to installing bands as described in the Banding Option, weld steel insulation pins in rows to the underside of horizontal runs*. Locate pins on both sides of all second layer transverse butt joints 3" apart. Add additional rows as needed to ensure longitudinal spacing is max. 10". Pins in each row are to be max. 6" from each duct edge and max. 12" on center. Impale FyreWrap Elite 1.5 Duct Insulation over the pins and secure with washers (cup head pins also permitted).
*Pins are not required on vertical duct sections when using this option.

Pins Only: For Any Duct Width
In lieu of banding, pins installed on all sides of the duct is permitted. See Pin placement above.

Access Door
Field fabricated and prefabricated grease duct access doors are permitted for use with FyreWrap Elite 1.5 Duct Insulation. Installation details are provided below and in Figure 2. Field fabricated access doors are protected with three layers of FyreWrap Elite 1.5 Duct Insulation.

A gasket of 0.5" thick unfaced FyreWrap or ceramic fiber blanket is initially installed between the duct and the access door cover. Weld threaded rod to each corner of the access door opening. Cover with hollow steel tubes (optional) for easy removal of blanket. Weld at least four steel insulation pins to the outside of the door cover panel, 1" from each corner.

Cut through the two layers of FyreWrap Elite 1.5 Duct Insulation already covering the duct and access door opening. Leave the interior piece in place. Cut back the outer layer to form an opening with perimeter dimensions that extend 1" beyond the inner layer.

Cut a piece of FyreWrap Elite 1.5 Duct Insulation that matches the dimensions of the opening and install over pins to fit tightly within the existing material. Cut an additional piece of insulation with perimeter dimensions that extend 1" beyond the layer below. Install over the insulation pins. Throughout the installation process, seal all cut edges with aluminum foil tape. Secure with washers and bend over excess pin lengths to eliminate safety hazards. Place washers on threaded rod and secure with nuts. Do not install banding over this area. See Figure 2 below for details.